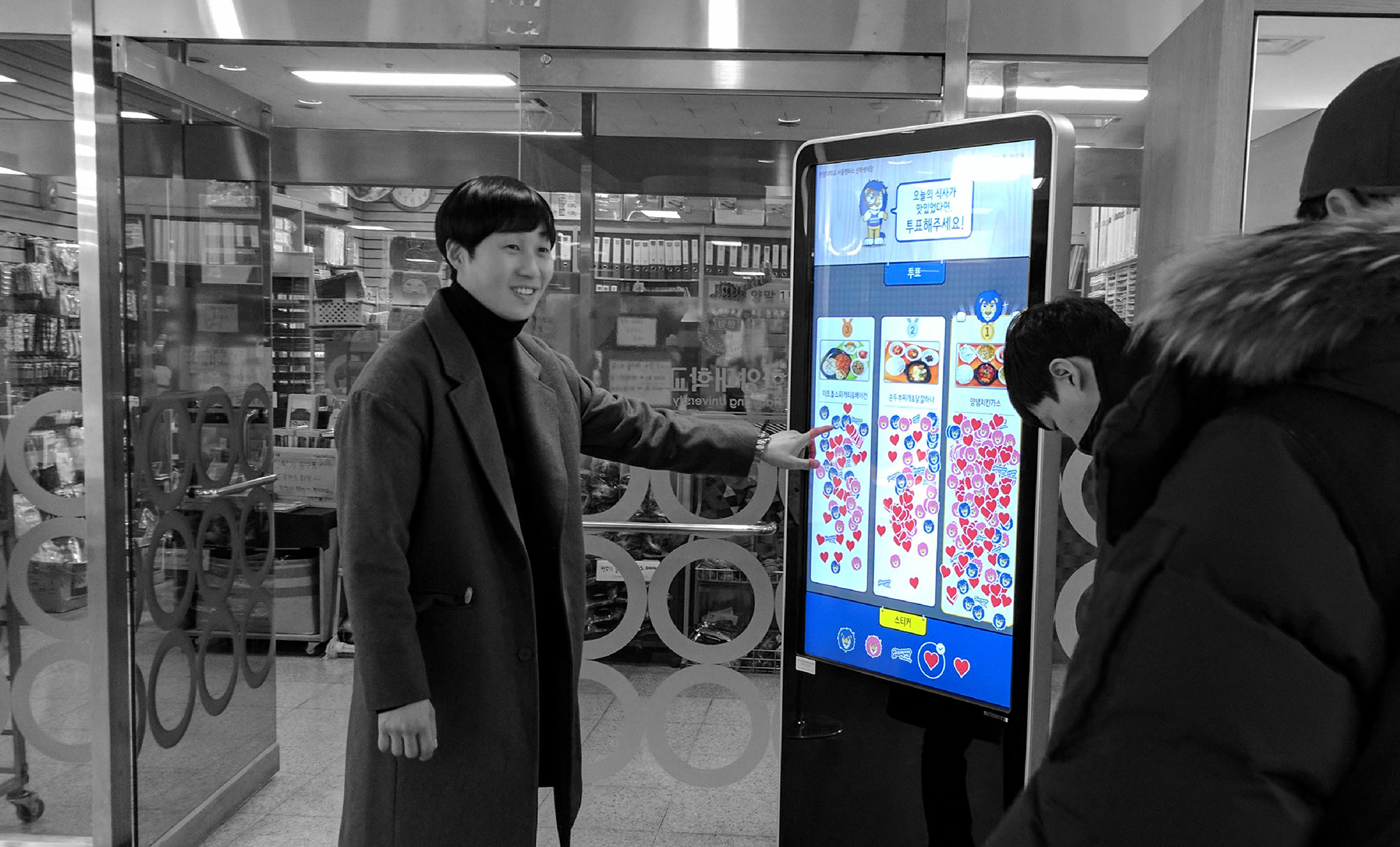 This is a service that provides useful information (congestion, real-time recommendation, popular menu) to students and staff by creating a smart environment in the student cafeteria through a IoT platform
Students, Student Restaurant Manager (Staff)
Hanyang University Seoul Campus Material Engineering & FTC Building
Student Cafeteria Information Kiosk is installed in laboratories and lecture rooms to reduce the waiting time for students and provide convenient information such as recommendation menu
Main contributed in researching, wireframing. I also participated in ideation.


There is lack of information that helps students to select cafeteria. Perhaps there is no restaurant in the university that gives good experiences such as the most famous cafeteria, or the best menu within the university.

Hanyang University Seoul Campus has seven cafeterias. Students tend to select cafeterias by the closest distance from where they are. When there are multiple restaurants on the way to the next class, how do they choose a restaurant? The answer is it depends on the menus of each restaurants.
These days, the university community application is well used, which only shows the menus in all the restaurants in Hanyang University. However, you never know which menu is popular, and delicious on the app. Also, you never know whether the nearest restaurant is crowded or not.
     • Check the degree of congestion in the restaurant in real time, and disperse congestion zones and increase the accessibility of other (quiet) restaurants.
     • To let students know the various menus of restaurants that they didn't know about before, so that they can choose more delicious food at the university.

     • Can students participate quickly and easily?

     1. Make them try other restaurants in campus
     2. Let them know various foods in campus
     3. Join in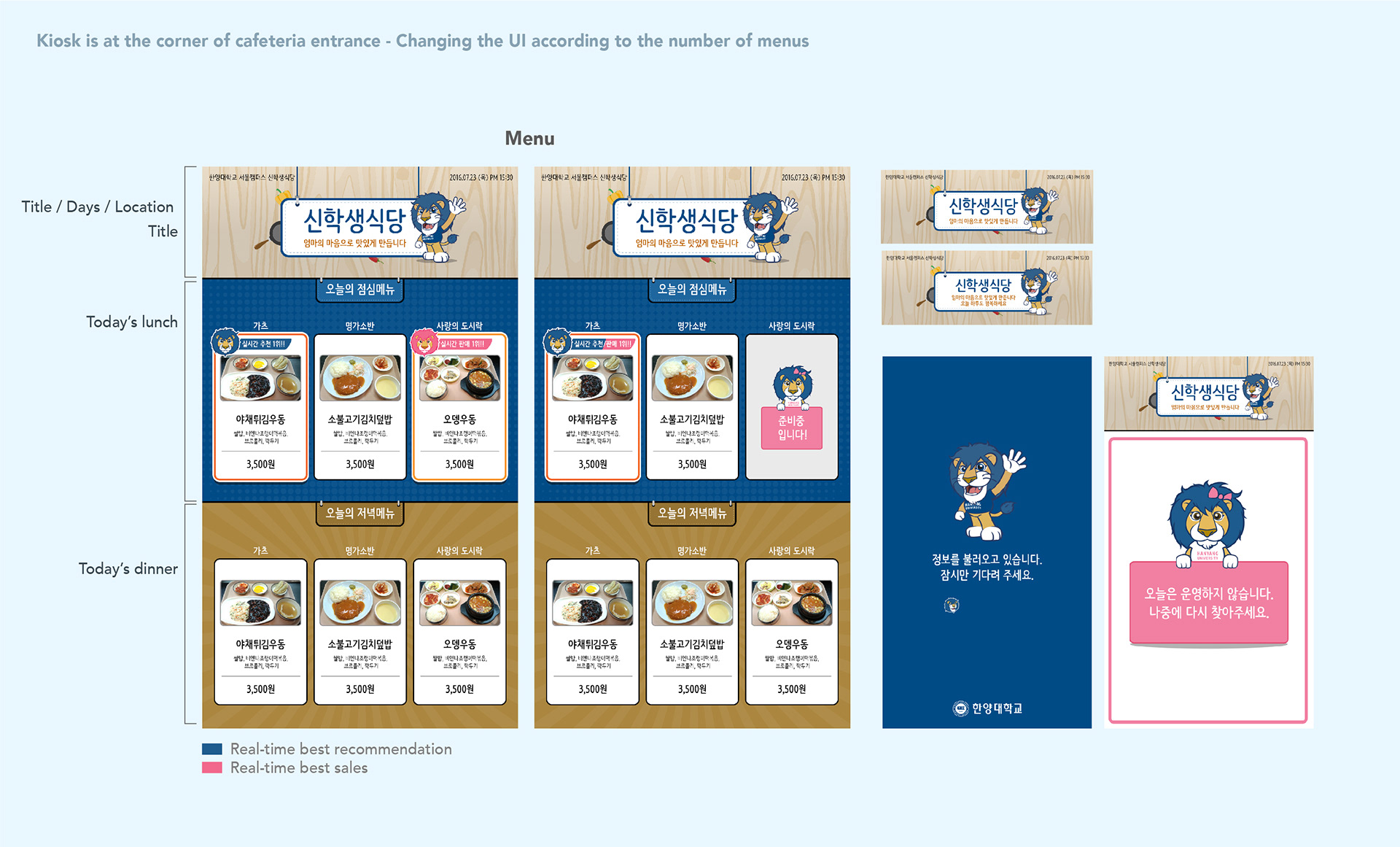 A kiosk screen installed at the corner of the cafeteria entrance, showing real-time popular menu based on voting and sales status data.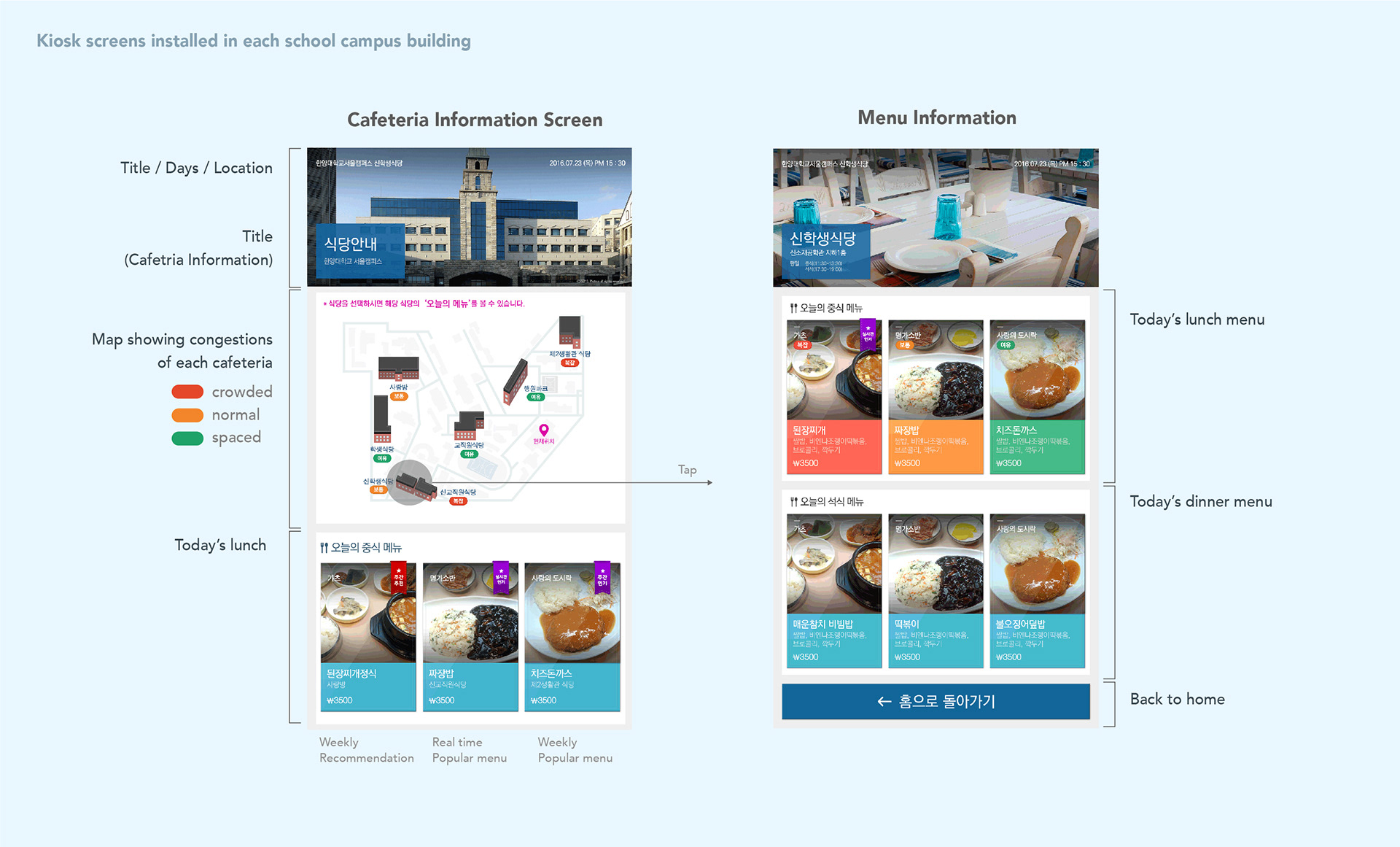 Popular menu (real-time, 7 days count data)
A kiosk screen installed in each campus building.
Set the number of menu votes and sales status as data. By adding all the previous seven-day voting count data, it displays the most recommended menu. It also helps you to select restaurants, menus showing the most popular menu in real time (Recommendation + Sales data) in 7 restaurants.
Detects the number of people through the number sensor installed in each restaurant, and displays it as spaced/ normal / crowded
A screen on which students can vote. 
Voting with a sticker simply. You can vote without having to register ID, you can't vote for 3 seconds after voting to prevent duplicate voting.